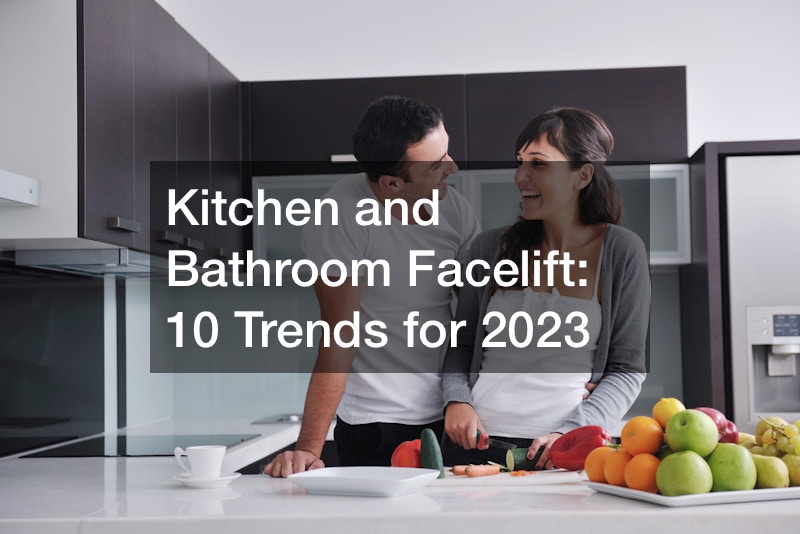 Kitchen and Bathroom Facelift: 10 Trends for 2023

Once in a while, some parts of your house may need a facelift to keep up with modern trends. Some of those areas include the kitchen and bathroom. A facelift doesn't just make the area look nicer and modern, the remodel may give it more functionality. If you want to give your kitchen or bathroom a facelift but have no idea about where to start, keep on reading. We give you suggestions on trendy kitchen and bathroom design ideas that you can pick and implement.
New Open Plan Kitchen
This trend has been on for years on, but there's still time to catch up. Although the open-plan kitchen is a controversial design, some people may like it because of the additional functionalities that come with the design. While some people may not want to see their dirty utensils while seated in their living room, some like the easy access to the open-plan kitchen.
The latest trend for kitchens is opening them up to the outdoors, not just indoors to the living room. This means opening up your kitchen to either your backyard or kitchen garden. This makes it easy to pick up your vegetables from the garden. You'll also have a great view of your outdoor greenery while in the kitchen.
While doing the renovations to open up to the backyard, make sure your plumbing or piping system is not tampered with. In addition to a kitchen remodeler, you may need a local plumber to make sure everything is okay after the facelift. You don't want a kitchen with leaking water, or a kitchen with no access to water at all.
Custom Kitchen Cabinet
Say goodbye to the typical old-fashioned kitchen cabinets and say hey to new bespoke cabinets. Everyone has different needs, and you don't have to deal with something designed for conventional use.
Work with a carpenter and remodeler to understand the specific cabinet designs that you want, where you want them, and how high or low you want them placed. However, these custom cabinets do not come cheap. You'll have to work around how to minimize the cost of making the new cabinets.
In addition to a whole new design for the cabinets, a facelift may involve simply adding new colors, preferably white. Many cabinets have the traditional wood color – green. While doing your kitchen or bathroom facelift, the color of your storage space doesn't have to follow conventional norms. Minimal kitchen cabinet doors are also gaining popularity.
There are many trendy styles and designs you can choose for your cabinets. The shaker style is a great design for those who want to show the natural beauty of the wood. You can also give the cabinets a more furniture feel. All you have to do is add actual furniture pieces. For example, you can add a vintage desk as the kitchen's island.
The new design may also involve choosing designs with better functionality for the cabinets. Upper cabinets, as we know them, are fading away and are being replaced by open shelving. The new open shelves save you money and also make it possible for you to showcase your personality through beautiful vignettes.
Kitchen Electronic Upgrades
Upgrading your kitchen also means keeping up with the latest kitchen appliances or equipment. In addition, stereo systems, wireless speakers, and docking stations are becoming popular additions to kitchens. You want to make sure your kitchen's electrical wiring is well-equipped to handle all these appliances and systems.
More wi-fi smart appliances are projected to become trendy in 2023. Smart appliances that are connected to your phone make it convenient for you to multitask. For example, you can get a text from your oven letting you know that it has finished cooking dinner. This is what happens if you use a smart oven.
Keeping up with the new trends in 2023 also means doing away with old appliances and getting new ones. For example, side-by-side refrigerators and freestanding stoves are declining. The new trend in refrigerators is the freezer-on-bottom configuration.
Look around in kitchen magazines and blogs to discover the latest gadgets, appliances, or technologies that can help make your work easy in the kitchen. For example, there might be new appliances that make your work cleaning the kitchen easy and faster. As you add the latest dishwasher, also think of the best kitchen cleaner detergents for your countertops and other areas of the kitchen.
Make the Kitchen a Multiuse Space
While doing your kitchen or bathroom facelift, your mind might be confined to the specific function of that space. For example, you want to imagine that your kitchen can only be used for cooking. Did you know that you can create a study area in the kitchen? Somewhere your kids could be doing their homework as you cook.
The most popular addition to the kitchen is the dining area. The new trends would be how you design the seating area and the type of furniture that you use. A trendy design you can pick is mixing vintage and antique pieces of furniture. This type of furniture can create a warm environment in the kitchen. Other areas of the kitchen, like your countertops, should remain modern. You can contact a granite countertop company to give the tops a facelift.
The Outdoor Kitchen
The outdoor kitchen is also becoming more popular. These kitchens are not just for your occasional birthday or anniversary parties. They can be your regular cooking area, especially if you have private outdoor space.
Keeping or adding a new kitchen outside is a great way of invoking nature in your cooking area. You can grow your vegetables in the garden, which you can easily pick and use because of the location of the kitchen.
There are many outdoor kitchen ideas to pick from. Your choice will depend on your specific preferences and what you want to do with the outdoor kitchen, assuming it's not the only one and you have a fully functional indoor kitchen.
You could also create a separate seating area, enough for all family members. This means that you can cook and have your meals in your outdoor space when the weather is friendly. No need to squeeze yourself indoors for lunch during hot summers and put your air conditioners to work. Just create a seating area under the shade of a tree where you can enjoy your afternoon meals during hot summers.
Bold Bathroom Tiles
Every bathroom has tiles. It is how they look and feel on your feet that are different. When thinking of a whole bathroom facelift, the floor is one of the dominant areas you should prioritize on. Remove the old and boring all-white bathroom tiles and replace them with modern tiles to give the space a new look.
Bold tiles instantly give your bathroom a new look. It is one of the first things someone notices when they enter the room. You can mix and match tiles. For example, install textured tiles and match them with a flat surface.
Zellige tiles are gaining popularity among trendy folks in major cities. This addition to your bathroom is enough to make a bold statement about your style and personality. These tiles can look great on anything.
You have to be careful about the type of flooring materials you use in your bathroom. You don't want to have a wet slippery floor, especially after coming into contact with soap. Work with a bathroom remodeling contractor to help you choose the best tiles for the floor.
Decorative Bathroom Lighting
Want your bathroom to be an inviting area during the night? How about you invest in luxury lighting? This bathroom facelift adds to the ambiance of the space.
When choosing good lighting for your bathroom, you have to consider the safety of your eyes. You don't want to choose something that will hurt your eyes. However, you still want something bright enough to properly illuminate all areas of the bathroom. You may need it when you have to remove debris or do grout cleaning in a bathroom that does not have access to natural light during the day.
Good and proper lighting will also highlight all the decorations in your bathroom. Unless you have a minimalist bathroom, you want to showcase every bit of decoration in the space.
Add a Bidet
There is no better bathroom facelift than one that adds some functionality in the bathroom. That is what you get from adding a bidet in your bathroom. Starting from the Middle East and gaining popularity in Europe, more Americans are slowly picking up this trend. Heated seats and self-cleaning models are also gaining popularity in the United States.
Choose a bidet model that fits your budget and needs. One of the reasons you may want to add a bidet is that it's better for the plumbing system. Experts claim that flushing toilets can be a hazard to the environment. Because older homes may have problems with their piping system, it's better to find good alternatives. You also get to save on toilet paper by using a bidet.
One of the most important reasons why you may want to add a bidet in your bathroom is that it gives you a cleaner experience – compared to toilet paper. Using bidets is a more hygienic approach to cleaning yourself, regardless of your beliefs.
Before you think about adding a bidet, your bathroom must have enough space to accommodate it.. A bidet will require an area similar to the toilet, so make note of that when planning for the remodel. You should also ensure that you have all the plumbing requirements. You want to ensure that your bathroom has access to soft water. Hard water can build scales in your pipe. Think of water softeners if the source of water only brings in hard water.
Evoke Luxury
Although your toilet is not a lounge area, you want it to be a comfortable place, and a well-planned bathroom facelift will give you that. You tend to use the bathroom at least twice a day, and you should make it a nice place for everyone while they're visiting.
Use luxury tiles, decorative lighting, beautiful curtains, and various types of accessories to make the place look beautiful. You can also add some elements of nature by hanging some plants in the corner. Install luxurious showers and heads that will give you an indulgent showering experience.
You can also invest in colorful sinks. These colorful sinks are great for powder rooms because they create a focal point.
Although your bathroom is all beautiful and glamorous, your experience will not be enjoyable if there are many insects in the bathroom. This is why you should consider an exterminator service to eliminate all forms of pests or insects in the bathroom.
Use Textiles in the Bathroom
A trend that is also gaining popularity is the use of textiles. You may also consider this as part of decorating your room and making it a luxurious place. You're literally getting a bathroom facelift by using removable textiles like carpets. You can also add a bit of furniture if you have space. Get moving services to transport the furniture to your home.
There are various types of rugs specifically designed for the bathroom. Don't use your typical living room rug in your bathroom. You can also use water-resistant rugs made from polypropylene or recycled plastic. The rugs don't have to cover the full length and width of the bathroom, just enough to add some style to the space.
Your kitchen and bathroom should always be able to serve you fully. This means equipping them with all the parts that are required for their proper functioning. For example, your kitchen needs sinks and countertops. You can remodel these parts for a better and new look as well as give you better or more functionality. Therefore, you should look at your kitchen or bathroom facelift as a great investment for your home.