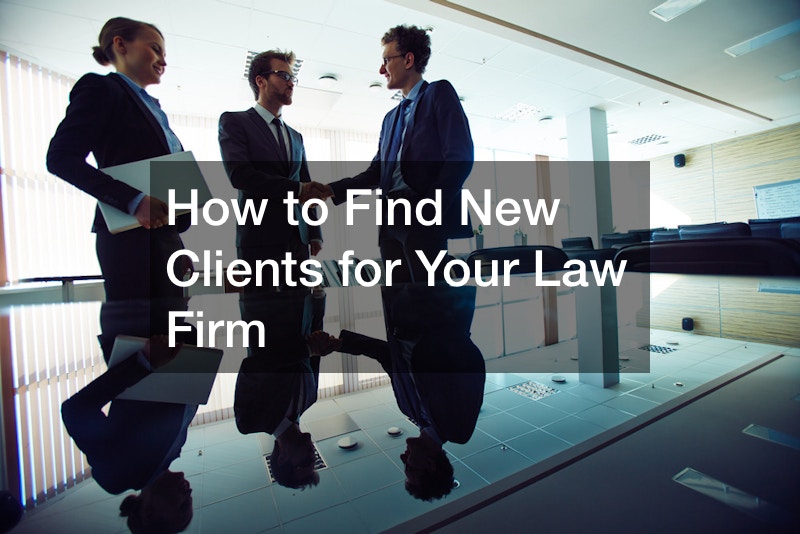 How to Find New Clients for Your Law Firm

As a lawyer, finding and retaining clients is part of building your success in any area of law. If you are opening a law firm or if you're interested in expanding your clientele, familiarizing yourself with the best law firm marketing tools can help you to find the new clients you need. Using a wide range of law firm marketing tools and tactics, optimize your ability to appeal to prospective clients while simultaneously maximizing your reach, both online and off. Whether you're searching for family law clients or you are working as a defense attorney, knowing how to reach potential clients can make a world of difference when it comes to setting and achieving career goals.
Set Up Tables at Local Events
If you are opening a law firm in a new city or region, it's important to get to know the members of your community. Establishing trust and a professional reputation is not typically an overnight process. You will need to make an effort to build a reputation that will help you to attract new clientele in the future. Setting up tables at local events is one of the fastest ways to introduce yourself to members of a new community or city.
How to Set Up Tables at Local Events
Depending on where your law firm is located, you can set up tables at local events by contacting the director or coordinator of various local events that are happening in your area. Visit the official website of your city or check into attending local city council meetings to learn more about upcoming events that may be relevant to you and the type of legal services you intend to promote and offer. Attending local events that allow members of the community to promote their businesses is another way for you to connect with prospective clients. When researching individual local events, be sure to inquire about the cost of a table rental and whether or not you are able to implement promotional materials during the event itself.
Invest in SEO
One of the best technological law firm marketing tools includes SEO, also known as search engine optimization. Search engine optimization is fundamental for anyone who is interested in building and expanding upon an online presence. With SEO, users and prospective clients online can find your law firm and the type of legal cases you take on much easier. A website that is optimized for search engines will appear higher within top search engines such as Google, Yahoo!, and even Bing.
How to Get Started With SEO
Implementing the right SEO tactics into your law firm's website is possible by familiarizing yourself with beginner's tips for those who are new to SEO. Understanding the basics of keywords, long-tail phrases, header tags, meta tags, and when to bold or use links for SEO purposes can come in handy when you are just getting started with SEO for the first time. You can also choose to work with a professional internet marketing company that specializes in SEO optimization if you want to streamline and expedite the process.
Finding SEO Professionals
Choosing to invest in SEO can provide you with extremely fast returns, depending on the area of law you represent and where you intend to reach your new clientele. Finding the right SEO company or specialists can be done by asking other entrepreneurs you know for input while also using local business directories as well as online directories that are available in your region. Searching for SEO professionals online is one of the fastest ways to learn more about a professional's skills, abilities, as well as their individual limitations. When you are browsing for SEO professionals and companies online, be sure to review previous work and case studies they have published for the public to review. This will help you to determine which SEO professionals are right for your law firm and the type of SEO campaign you envision.
Revive the Look of Your Offices
While most law firm marketing tools involve technology, one tool that is not connected to the internet involves remodeling the interior of your law office. From brand-new office floor installation options to working with commercial painting companies to completely transform your law firm's office, reviving the interior of your firm's commercial space is key to appealing to new prospective clients. An old, outdated, musty office space will not only turn potential clients away but may also prevent them from referring your law office and the services you provide to those they know who are also members of the local community.
Keep It Clean
Keeping your law firm as clean and clutter-free as possible is essential when you are seeking new clients. When you are working as a lawyer in any area of law, you will often only have one opportunity to make a positive impression on prospective clients. Keeping a clean law firm will allow you to maintain an environment that is welcoming and inviting to those who are currently seeking legal representation and your assistance.
Tips on Keeping Your Law Firm Clean at All Times
Maintaining a clean law firm is possible by taking time to dispose of garbage and take care of dishes or drinking cups on a regular basis. Avoid allowing any trash to accumulate in your law firm, as this may signal a lack of attention to detail when you are meeting with a new prospective client. If you want to streamline the process of keeping your law firm as clean and as clutter-free as possible at all times, you can also consider hiring a professional commercial cleaning company to get the job done right and on time.
Billboards
If you are interested in local law firm marketing tools, consider investing in billboards. Investing in local billboard advertisements is ideal whether you are promoting specific law firms you represent or if you are working as an independent work injury attorney. Regardless of the area of law you are currently practicing in, investing in billboards is a surefire way to help with spreading the word about the legal services and the type of legal representation you currently provide.
Local Commercials
For those who are interested in traditional marketing methods that help reach locals, investing in local commercials is another one of the most popular law firm marketing tools to consider. Whether you are promoting your services as an auto accident attorney or want to appeal to business owners near you, creating and launching a local commercial is a way to quickly establish yourself as a trusted and reliable lawyer. Working with a local production company is a great way to get started with the creation of a commercial that is right for your law firm, especially if you have little to no experience in the development and design of commercials yourself.
Word-of-Mouth
One of the oldest law firm marketing tools that can be used by entire law firms as well as independent lawyers includes word-of-mouth marketing. Spreading the word about the legal services you provide is ideal for local attorneys as well as international law firms alike. Regardless of the area of law you are currently practicing in, word-of-mouth campaigns can help significantly when it comes to appealing to prospective clients. Using word-of-mouth tactics is also useful while you are in the process of networking and getting to know others in your local community.
Encourage Previous Clients to Leave Reviews
When it comes to modern law firm marketing tools for those working as an injury lawyer or representing an entire law firm, encouraging current or previous clients to leave reviews and testimonials is highly recommended. Testimonials from verified clientele can help significantly in promoting your legal services and the type of cases you currently take on and accept. Anytime you help a client achieve what they are seeking via the legal system, request that they leave you a public review or testimonial on your official website or even within search engines designed for businesses, such as Google.
Encouraging your clients to leave testimonials can also help you to appeal to a much broader clientele once they begin researching local lawyers that are available to them in their area. Verified reviews and testimonials can go a long way for both independent attorneys and those who represent large-scale law firms. When prospective clients begin searching for a new lawyer, a positive review or testimonial can ultimately help them to make their decision. An individual with an overwhelming number of positive reviews is much more likely to land new clients than those who do not have positive reviews or any reviews at all.
How to Encourage Previous Clients to Leave Testimonials and Reviews
If you are working with a client who you have represented for years, you will likely feel more comfortable asking them to provide you with a review or testimonial. For new clients, encourage them to leave testimonials only after they are satisfied with the services you have provided and the work you have done for them. Provide your clients with a direct link to leave a review once they are done utilizing your services. This will encourage them to leave a review or testimonial, as they may not remember to do so on their own without a reminder.
Develop Your Online Presence
If your goal is to attract new clients to your law firm, you should also consider creating and developing your online presence. An online presence at a law firm can help you to stand out from other attorneys in your area as well as legal firms near you that are not yet online or actively engaged with their following. An online presence requires more than a website, especially if you intend to maximize your reach and ability to appeal to as many clients as possible with your website and social media platforms.
Tips for Getting Started With an Online Presence for Your Law Firm
Getting started with an online presence for your law firm is possible by first registering an official domain name for your law firm's website if you have not already done so in the past. Registering a domain name and choosing a web host will help you to build a website from the ground up or with the use of templates, depending on the web host you have decided to use. Once you have established a logo for your law firm and an official website, you can create content and a live blog to keep visitors coming back for useful updates in the future.
In order to share your website's content and blog updates, you will need various outlets, such as social media platforms. Creating a page for your law firm on platforms such as Facebook, Twitter, and even Instagram can help you to connect with users who are both interested in legal advice as well as those who may actually be seeking legal representation in your area. Using social media can drastically expand your audience immediately and without spending tens of thousands of dollars on the initial exposure you're seeking.
Benefits of Using Social Media for Law Firms
Regardless of the area of law you're intending to represent and practice, social media can be a vital tool in growing your clientele. Because social media is free to use, even for businesses and attorneys alike, it's easy to get started with, even for those who have little to no experience when it comes to working on computers. Establishing an online presence via social media for your law firm is a way to build your professional reputation as an authoritative source. When others view you are an authoritative source, especially when it comes to your opinions on the law, they will be more likely to turn to you in their time of need when they require legal representation themselves.
Once you are familiar with some of the best law firm marketing tools, you can begin seeking new clients for your own firm or for yourself independently. Using the right law firm marketing tools will not only provide valuable insight into your local and online audience, but they will also help you to better gauge which methods are ideal for your area of law. When you understand how to put law firm marketing tools to work for you, you can optimize any campaign you have in mind to promote your firm to future clients.