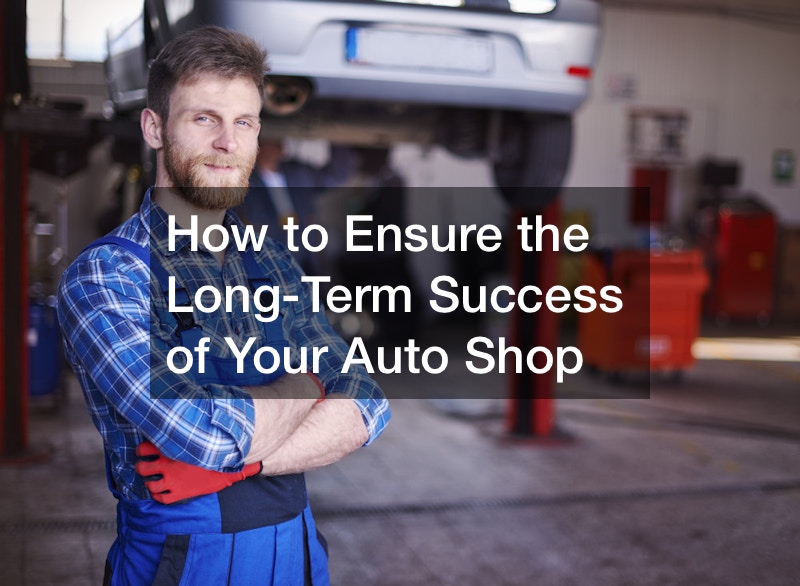 How to Ensure the Long-Term Success of Your Auto Shop

Owning or managing an auto shop is a very demanding long-term task. You have to be hard-working, resilient, vigilant, and time-disciplined to make it successful. You should always look for multiple ways to increase your revenue in the long run. In this piece, you are going to learn some business improvement tips and tricks you can integrate to ensure the long-term success of your auto shop. These improvements will keep your personnel motivated, attract more customers, and make them comfortable thereby more revenue.
Leverage Tech and the Internet
Tech has had a long history of impacting businesses positively when used the right way. The internet made the spread of information very easy and businesses could do e-commerce. Leveraging tech and the internet in your business will only boost you in the long run and make profits.
Here are some of the tech and internet ideas and improvements you can leverage:
1. Modern Business Management Software Tools
Always ensure your business tools are up to date. Use software-based tools with internet connection capabilities to facilitate fast communication between your team and suppliers through online direct messages and emails. Your inventory should be on a system that is accessible to different employees on different devices and all data should be in sync. For example, if 10 tractor parts were sold a minute ago, everyone who has a work device should have their numbers deducted by 10.
Consider using AI-integrated tools in your business. If you have many branches and a large-scale business, buy a smart business system. AI-integrated business systems learn everything about your business and recommend ways to improve. It will show areas of weakness that you can address at board meetings. Business and tech move fast so staying up-to-date will help you accelerate the success of your auto shop.
2. Staying Connected
A fast and reliable internet connection means fast communication between you and your suppliers. Find a good Internet Service Provider to install networking devices that will allow you to connect to the Internet. Being connected to the internet also allows you to get information quickly such as moving prices of auto parts, and changes in laws regarding car and auto parts dealers.
Use social media to get yourself out there and e-commerce shops to sell without boundaries. Revamp your social media accounts to stay up to date. Post videos, photos of your parts, and short useful tutorials like how to change a tire. If you have an e-commerce shop, advertise it, do promotions and clearly state your terms and conditions and privacy policy to your customers.
In different ways, business management software and the internet may combine to give you an edge against your competitors in the auto shop business. You have to utilize them in the right ways or employ technical staff members to handle them and the success of your auto shop will be guaranteed. Ensure that the companies you hire to deal with your tech and internet issues are licensed and insured. Do research on internet plans to understand which plan will be better for you and your auto shop.
Repair or Buy a New One?
Faced with damages in their car parts, vehicle owners face one question, 'Repair it or buy a new one?'. The wrong choice bears consequences in the future. A smart car owner would redirect that question to mechanical engineers. Ensure that if you have mechanical engineers in your auto shop they are well-equipped to answer such questions.
Apart from experience, your engineers could use quick online searches to find remedies to tight situations before giving the customer an ultimatum. Giving customers sustainable solutions to their problems will help you get good public relations for your auto shop which is crucial to the success of your auto shop. Your auto shop will earn loyal customers.
When Does Your Customer Need Both?
There are several situations where your customers would need both repairs and to buy new parts. For example, if you can offer an auto collision service, you might advise a transporter that he might need truck and trailer repairs at his station which might include having to buy some new auto parts because some of the trucks and trailers are starting to wear out and not fit for transport. In this scenario, the customer needs to buy both because some auto parts simply need regular renewals. For a trailer-only company, they would need only trailer repair but would still have to buy new auto parts to replace the old ones.
A Strong and Motivated Team
In an auto shop, you will need several types of people including Mechanical engineers, a sales team, a cashier, sales representatives, security personnel, and a technical team. These people are crucial to your auto shop's performance and should each work hard to ensure that customers are served. Fair wages for everyone will ensure that they all do what they are supposed to.
Apart from fair wages, motivate your team with bonuses and milestone incentives such as free oil changing services or free auto transmission repair for every worker to show them appreciation for going the extra mile. This will show them that you care for them. Engage them in team-building exercises to foster collaboration and teamwork. This will improve their bond allowing them to understand and respect each other at work.
Building a strong and motivated team takes time and resilience. If you are not sure about who to hire, use a local staffing agency and they will give you a good organizational structure for your auto shop. Having a strong, motivated, and dedicated team is crucial to the success of your auto shop.
A Satisfied Customer is the Best Business Strategy
Your customers bring in revenue for your business every day. This shows that they must keep on coming and be retained for the success of your auto shop. For a customer to feel at home when they are at your shop, their happiness must come first. You have to develop ways to keep your customers happy and satisfied with how business is conducted on your premises.
Customer Service
Your customer service team should be well-trained to handle customers in your niche. They should be familiar with what your auto shop sells, the services you offer, and your goals as a business. Customer service representatives should talk to customers calmly, get acquainted with them, and then pull them into the business with a product pitch.
Take customer feedback seriously. In this era, businesses are customer-focused. Ensure your employees understand that the customer is always right and they should advise customers to pick the right product when they feel they need guidance. Let your auto shop become a heaven to customers and watch them light up every time they walk in.
Customer Fan Base
Having regular and loyal customers is an aspect of business that every merchant needs to master for the success of their business. The way you treat your customers determines if they stick by you so you should always show them respect and kindness. Regular customers are good for keeping the business going.
Online, you can have a following so huge that search results are always in your favor. The more you interact with your followers, the more they boost your online presence. Entertain your followers online using live repair videos and see it grow. A loyal and engaging online community is good for public relations.
Strategic partnerships
Make strategic partnerships with other businesses that might come in handy sometime later and will partially contribute to the success of your auto shop in the long run. For example, if there is a transportation company that brings its trucks to your auto shop for repair and servicing, ensure they get the best services, and offer extra services such as truck bed liner repairs to ensure that they transport things smoothly. Boosting their ability to do their business well in the future might earn you a good price table when you go seeking their transportation services in the future.
Making your customers happy will always guarantee that they come back to do business with you. Hire happiness engineers if you need to, to keep both your staff and your customers satisfied. Creating online communities and engaging them will create a loyal following that will boost your business' brand. Use these all together and watch them help in the success of your auto shop.
Security
Your auto shop's security should be taken seriously as that is where you put up all your auto parts for sale. Items used by your mechanical engineers during servicing and repair such as fluids used for transmission service or tools used for repairs are also kept in the shop and that is why you should always keep it located and safe. Since you are connected to the internet, you should also ensure that your network is secure and no malware can be dropped in. Here are the two security aspects you should address as they are part of the grand success of your auto shop:
1. Physical Security
As mentioned, your shop holds many items for your business so it is imperative to keep it safe. Ensure burglar-proof doors are installed in your shop and systems such as scanners are in place to protect reserved areas from external access. You don't want your auto shop or customers getting robbed at any time so you should also consider hiring a security company to keep the place secure from intruders.
If your shop handles a lot of cash, ensure there is a safe for you to keep the money. Only the owner should know the combination to the safe to avoid any confusion as to who has the right privileges to access the safe. Use RFID tags on your items. These tags alert the shop when an item that hasn't been paid for is taken through the door.
2. Digital Security
This aspect of security would involve protecting your computers from external access & malware, storing data safely, adding authentication systems on top of your business systems, and protecting yourself and your customers on the internet. Protecting your computers from external access can be as simple as preventing non-staff from accessing your computer room or as technical as setting up strong passwords that are required to log in to work devices. Your work computers store all your business info so it is essential to protect them from external threat actors.
Imagine a scenario where you need to move large equipment due to a small expansion venture. You place online orders for several skid steers but after a long time, you realize that you ordered on a site that was designed to look like a regular company that offers skid steer rentals. This type of social engineering attack is called phishing and it occurs 3.4 billion times a day. If you feel like you cannot handle these types of attacks, outsource your digital security needs to a Security Operations Centre.
Loss of property puts you behind in terms of workload and financial stability. Always ensure that your auto shop is well-protected and has measures such as placing RFID tags on goods to prevent theft. Protect your business from fraudsters by avoiding suspicious links and confirming that you are ordering items from the correct supplier's online shop. Conduct audits to measure the strength of your digital and physical security measures since they contribute largely to the success of your auto shop.
Any business, including an auto shop, is like a vehicle with many moving parts. You have to keep them in good shape and oiled to maintain their stability, speed, and look. Be sure to keep customers happy by ensuring their needs are met and giving extra services such as free windscreen wiping. Keep everyone safe physically and digitally to avoid legal complications, loss of information integrity, and financial losses caused by theft and burglary. Strategic partnerships are a great way to form business friends and loyal customers will generate continuous revenue which is crucial for the success of your auto shop.