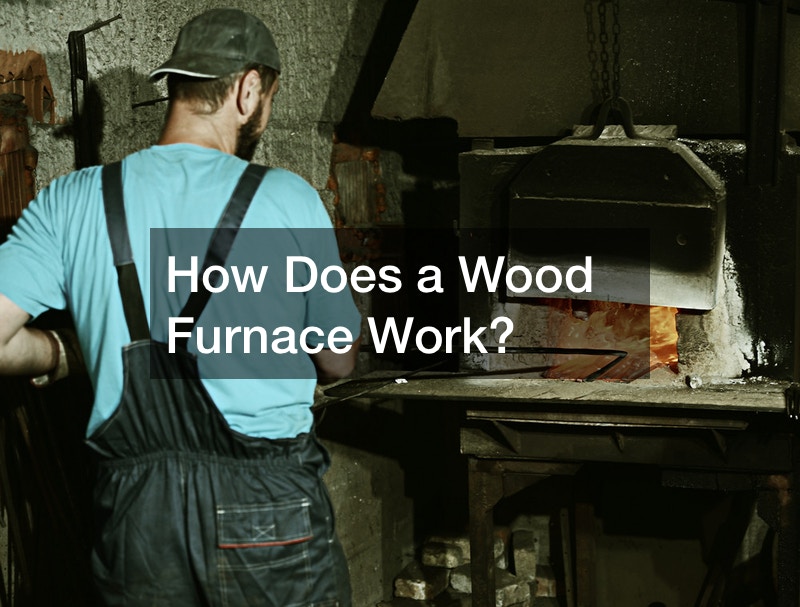 How Does a Wood Furnace Work?

People have been using wood furnaces since the 1500s. Old wood stoves get a bad rap because they generate a lot of smoke and are hard to control. They also require a lot of firewood.
The wood furnaces today are quite different. They're more efficient than ever before. This makes them a great alternative to traditional gas or electric furnace services. Still, it doesn't answer the question, how does a wood furnace work?
Using a Modern Day Wood Furnace VS An Older Model
The models today are superior, but they still have an old-fashioned feel. For instance, they still need manual operation to start the fire.
Thankfully, it's not that hard to do. All you need is kindling or some other flammable material. After the initial fire is lit, add some more wood and you can leave it alone. The wood in the furnace burns slowly until the thermostat detects a need for more heat.
When this happens, the combustion blower starts up. The wood burns faster and generates more heat. The fan picks up the heat from the burning wood and delivers it to the air duct system. This cycle will continue unabated until the temperature reaches the desired setting.
Older units have manual controls for the combustion blower and burn at a set rate. The thermostat usually controls the blower motor to deliver warm air into the house. These units aren't as efficient as their newer counterparts.
Benefits of Modern Wood Furnaces
Wood furnaces are a superior alternative to every heating source. As long as they adhere to the emission standards set by the Environmental Protection Agency. This ensures the fire is easy to handle and that smoke emissions are almost nonexistent.
Other benefits of these stoves are:
Wood-burning stoves are versatile: You can place them anywhere in your home. Just make sure there's a vent pipe leading to the outside of your house available. A few well-placed stoves can replace your entire central heating system.
They look good: Today's furnaces come in a variety of fashionable styles. So you don't have to sacrifice aesthetics for heat.
They operate off of radiant heat principles: The heat coming from the stove radiates from around the unit. This type of diffusion sends warmth in several directions at once. This means wood-burning furnaces can warm a space faster than the typical heating system.
They give odd excellent heat and reduce your utility bills: One of the most inexpensive fuel sources is wood. On average, it costs less than electricity, gas, or heating oil. Plus, you won't have to worry about heating oil delivery charges. If you practice strategic zone heating in your home, it'll save you hundreds in utility bills every year.
They're a lot more eco-friendly than electrical furnaces: Fossil fuels damage the ozone layer. So, when we abstain from using these sources, like coal, propane, and natural gas, we are lowering our carbon footprint. Wood is a carbon-neutral material. When it burns, it doesn't release additional carbon dioxide into the air. This is because trees absorb carbon dioxide into the atmosphere. When the wood is burning, the principle remains the same.
No electricity, no problem: If you live somewhere with occasional power outages in the winter, a 100% self-contained heat source is invaluable. Your stove we'll make sure you stay warm even when there is no electricity or gas.
Some models double as stovetops: Through experimentation with cookware placement and temperature adjustments, it's possible to use the top surface of your wood stove to cook meals.
How to Get the Best Wooden Furnace For My Needs
Before you pull the trigger on buying a wood furnace, ask yourself these questions:
How does a wood furnace work?
What's the size of the area where you plan to place the furnace?
How well is the area insulated?
How much time do you typically spend in the area?
Can you ventilate the wood stove properly?
How much would a heating oil company charge if I chose to go that route? Is it cheaper than wood?
Location Is Vital
When installing a wood-burning stove, placement is of vital importance. Do not place it close to any window or doors. If you do, the cool air will seep into the room and cool down the warm air as soon as it comes off the stove.
If it's possible, put the wood burner in the center of a room or as close to the center as you can. It will circulate pretty well by itself this way simply because there isn't a wall to stop the air from spreading. The heat comes off your wood burner and spreads evenly in different directions.
What's Size Got to Do With How Does a Wood Furnace Work?
One of the best things about wood-burning stoves is their portability. You can put them anywhere, even in the garage. But, you must make sure you pick the right size for the room it's going in. This ensures optimal warmth generation.
There are wood furnaces that can heat an entire house and some that can only heat one room. When you buy a wood stove, you have to know the size of your room or house you're trying to put it in. For instance:
If the room is between 600 to 1000 square ft, you need a small wood stove. If it's 800 to 2000 square ft, you need a medium-sized stove. Finally, if the room or house is 800 to 3000 square feet, you need a large wood stove.
The draftiness of the space you're putting the stove in is an important consideration as well. Even in a small room, you'll need a bigger heater to compensate for the warm air you're losing.
The Most Important Factor to Consider When Learning How Does a Wood Furnace Work
Make sure your stove meets EPA emission standards. Although antique wood furnaces are charming and beautiful. Chances are they're not certified.
You'll know if your stove has the right certifications because it'll have a label on the back of it. It'll give you all the unit's manufacturing information. It details the emission standards it complies with.
There are places where regulations determine the unit that you can install. Some of these regulations govern the percentage of particulate smoke released into the surrounding air.
Why Is Particulate Smoke Important to How Does a Wood Furnace Work?
Particulate smoke, also known as particulate pollution, refers to the mixture of liquid droplets and solid particles in the air.
Some particulates, like smoke, soot, dirt, and dust are big or dark enough to see with the naked eye. Some are so small you need an electron microscope to detect them.
Their small sizes can cause serious health problems if inhaled. The particles less than 10 micrometers in diameter get deep into the lungs and into the bloodstream. There's a direct link between particulate pollution exposure and health problems like:
Non-fatal heart attacks
Premature death in those with lung or heart disease
Irregular heartbeat
Reduced lung function
Aggravated asthma
Increased respiratory symptoms, like coughing, difficulty breathing, or airway irritation
How the EPA Calculates Emissions to Determine How Does a Wood Furnace Work
The EPA uses the unit's specific combustion system to calculate its emissions. There are two basic types – those that have a catalytic combustor and those that don't. These components limit how much particulate gets released into the air every hour.
Some gasses come off the furnace when it's burning wood. Noble metal lowers its burn temperature, so the furnace generates less smoke. These particular components last a maximum of five years. The time varies depending on the brand and the quality of production. But, if there's pollution from burning foreign materials, it reduces this time.
Non-catalytic units use a small fan to keep the exhaust gasses down. They're positioned close to the burning wood, where the temperature is highest. This ensures efficient operation.
How Does a Wood Furnace Work to Get Optimal Performance?
To get the most out of your wood-burning furnace, use a fan to cycle the heat. An air conditioner has potential but the cold air it blasts defeats the purpose. There are several options:
Floor fan
Floor fans are one of the best ways to circulate heat around the space. And they are very efficient. An average-sized floor fan will blow the heat further into the room. This disperses the warm air, ensuring a comfortable heat.
You just have to make sure you keep the fan a safe distance from the stove. Since manufacturers make most of them out of plastic, air that's too hot will melt them. Also, placing the fan right next to the stars defeats the purpose. Its proximity cools the air down instead of circulating it.
Wood furnace specific fans
These eco-friendly units sit right on top of your stove. When the fire gets hot enough, the fan's blades spin, pushing the warm air around the room. These are excellent if you're just trying to heat but one room.
Ceiling fan
Heat rises, so ceiling fans are great choices when you're looking for a way to circulate air. The ones that rotate in a clockwise direction are even more effective at moving air around the room.
To get the most out of your fans, take the height of your ceiling into consideration. If your ceiling is too high, the air will get cold by the time it reaches the ceiling fan. It will distribute this cold air, making its use moot.
Wooden furnaces are an excellent way to warm up spaces. But remember, it's important to know what you want to get out of the woodstove and what you're willing to put into it. With proper care, they turn the draftiest room into a comfortable and enjoyable space.
Still, no matter how innocent it seems, fire is a dangerous thing. These tips will protect your home:
Make sure you measure the distance between the woodstove, floors, and walls. If the furnace is too close to a flammable surface, the constant heat is a fire hazard.
It's important to have smoke detectors and carbon monoxide detectors in the house. Make sure you test them regularly and replace the batteries two times a year.
Hire professional furnace contractors. Use an approved furnace installer after purchasing your stove. They will spot any problems and make sure everything is safe.
Get your chimney swept at least once a year. This prevents the buildup of creosote and soot. Both cause chimney fires. They'll check your system every year to keep everything safe. This type of company has the expertise to install and make any needed repairs to your chimney system.
Just like an HVAC contractor says, you must have proper ventilation. This makes fires safer and more efficient. It will keep the smoke from backing up into air space and keep the fire from going out as well.
Ideally, your wood-burning stove should sit on top of a concrete slab. But, don't elevate the furnace too high off the ground. Heat rises, so when you do it pushes the heat up and away from you. In other words, it affects the airflow.
A great way to keep your home safe is with wall and floor protection. Non-combustible floor pads keep stray sparks from setting your home on fire. Non-combustible materials are brick, ceramic tile, steel, and concrete.
The walls closest to where you plan to put the furnace should have sheet metal heat shields. Getting a professional to install them makes things significantly easier. They already know the local building code requirements.
A wood stove gives many of the same benefits as a fireplace or water heater. Plus, they give you something cute to look at and don't compromise the overall energy efficiency of your home. So, if you want to create some ambiance or you always wish your home had a fireplace, a wood furnace installation is a great option.