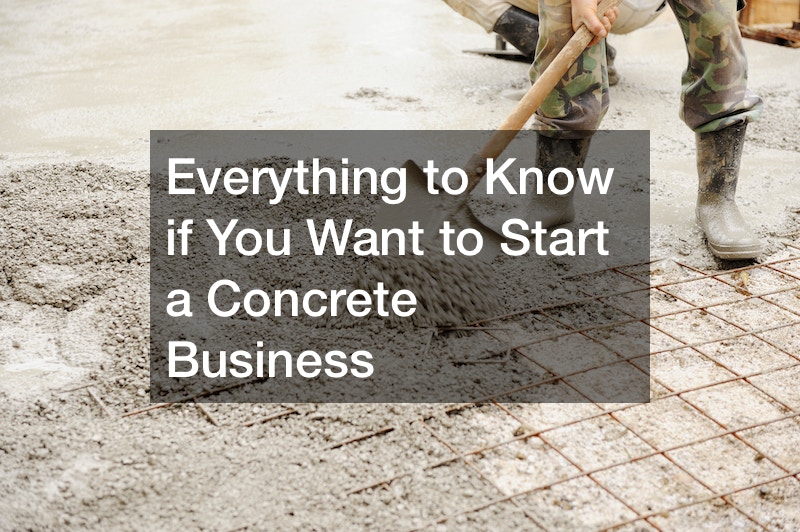 Everything to Know if You Want to Start a Concrete Business

Starting any business requires significant research and planning. When you decide that you want to start a concrete business, begin your process at the U.S. Small Business Administration (SBA). The SBA offers step-by-step guidance in opening a business in the U.S.
After reading the SBA instructions and downloading its checklists, move on to your state's business administration and/or department of commerce to find out about state regulations and licensing requirements. States must at least use requirements as strictly as the federal government does, but they have the right to add requirements. Many states do increase business requirements, requiring both general business licenses for most types of businesses and licensing of specific types of businesses or individuals, such as teachers, hair stylists, nail techs, masons, master carpenters, etc.
Opening a concrete firm means you want to become a mason. Perhaps you already earned your designation as a mason and merely want to work for yourself instead of for another company. If you have yet to become a mason, you will need to start there.
Becoming a Mason
Becoming a cement mason requires quite a few inherent skills, including physical fitness and creativity, plus technical skills learned in school. Follow these steps to become a mason, so you can open your concrete firm.
Earn your high school diploma or general education diploma (GED). Excel in the essential math skills covered since you will use these to mix concrete and other building materials.
Complete vocational classes in cement work or a construction-related certification with a specialty in masonry or concrete technology.
Land a paid apprenticeship with an established masonry firm. A cement mason apprenticeship requires a three to four-year commitment. In this step, you learn through hands-on training how to mix concrete, concrete placement, and concrete finishing. At this apprenticeship, your boss also teaches you to use the literal tools of the trade, including edgers, power trowels, and screeds.
Land an on-the-job training (OTJ) position that lasts six months to one year. After completing a masonry apprenticeship, a would-be mason completes an OTJ position to build proficiency in construction techniques including finishing concrete, surface decoration, and concrete repair.
Earn certification as a cement mason. Federally, certification isn't required, but check your state's laws. Your state of residence may require certification from either The American Concrete Institute or The Concrete Flatwork Finisher and Technician certifications.
Once you've completed these steps, you can legally open and operate your own concrete business.
Common Uses
Let's consider some of what the would-be cement mason learns along the way in their education and training. This information can help you decide if you want to start a concrete business. The common uses of a concrete contracting company include laying slab foundations for buildings, and installing driveways, sidewalks, walkways, patios, carports, cement and stone walls, and retaining walls. Some masons specialize in swimming pools or basements.
Many other specialties abound. A concrete company does more than mix and pour concrete, although that does consist of a large part of the job. Let's consider some of the many concrete skills an apprentice mason learns.
Filling
When you start a concrete business, you'll need to provide flowable fill, an additive that works well as backfill or fill added to a concrete installation. It is not concrete and you cannot use it in place of concrete because it doesn't have the appropriate strength. A construction professional can use it as a substitute for compacted granular fill.
Cutting
In an apprenticeship, before you start a concrete business, you need to learn how to cut concrete. Use a concrete saw, circular saw, angle grinder, or jackhammer to cut concrete. The jackhammer cuts into cement to break it up, while an angle grinder lets the mason shave off small bits of concrete. The two saws work well to cut hunks out or larger pieces off of a block of concrete to fit a grate into an open that just missed being molded the perfect size.
If you develop a knack for this work, consider founding a concrete cutting company. These specialists run the jackhammers to remove old roads or driveways. They also carve designs into concrete and cement blocks to create a visual feast for the eyes.
Pumping
When most people think they want to start a concrete business, they think of the large concrete mixers seen on construction sites. These concrete pumping services form one of the many specialties in construction. They take on huge projects and, thereby, huge responsibility because they mix large batches of concrete for massive projects. Mixing these large batches requires care and consummate mathematical skills because a mistake of a decimal point could cause a foundation collapse.
Driveways
Seeing their neighbors installing a new driveway with the help of one of their local concrete driveway companies might inspire some individuals to start a concrete business. Driveways, sidewalks, and walkways at a home offer three of the most common jobs of a mason. Some driveways might include artwork etched into the wet cement or rock, stone, pebbles, or seashells added to the cement once it gets poured.
Masons learn a bevy of ways to dress up concrete to make it gorgeous. These techniques include adding sealant, epoxy, or a resin after the cement dries. During their apprenticeship and OTJ, the would-be mason learns to install driveways on an incline, commonly called California driveways. These drives go up hills and some curve around trees in the yard or other natural features.
Lifting
If you want to specialize in concrete lifting and stabilizing, that's probably the only concrete work your company will do. When you start a concrete business that specializes in lifting, your company uses special equipment, such as house jacks. House lifting does just what it sounds like it does; it lifts the home off of its concrete slab or other foundation to add stabilization underneath or construct another story of the house beneath the existing one.
House lifting requires extensive construction skills. The most common application of it comes from a homeowner needing to repair slab foundation damage. The concrete specialist lifts the home off of the slab, then repairs the foundation, shoring it up and re-leveling it. They then replace the house by slowly lowering it back onto the revamped foundation.
Paving
Another specialty within concrete work designs and installation of patios and walking paths with custom pavers. When you start a concrete business as a concrete patio paver, you will design unique paver stones for your client, then create a mold, and form as many of these pavers as needed to finish the project.
Clients often request odd things on pavers. Some want the impression of their pet's face or an etching of their favorite sunset. Creating pavers requires significant artistic skills and creativity. These masons frequently include secondary materials requested by their clients in the paving stones, including seashells, small stones, gems, or iridescent dust to make the pavers glimmer in the sunlight and moonlight.
Slabs
Perhaps you got the idea to start a concrete business from watching a crew pour a slab foundation for a building or patio. A huge portion of concrete work consists of pouring these large, flat slabs on concrete for home foundations, outdoor basketball courts, tennis and pickleball courts, and much more. As a local concrete slab contractor, you would carefully mix concrete that creates the foundation for many homes, offices, and industrial complexes.
Pouring slabs doesn't include much creative license. Instead, the mason mixing the cement must pay extra care to the formula for the mixture since it supports homes, offices, and other buildings that humans use every day. The high quality of this cement mix helps ensure the safety of the people who use the building.
Walls
Constructing concrete walls might sound easy, but it requires massive forms that equal the size of the wall. The mason builds the form and mixes, then pours the concrete mixture. These walls frequently include creative features, such as sculptures of lions' heads or other animals' heads. Sometimes, the mason creates these sculptures, while in other cases, they integrate a pre-formed sculpture into the wall.
Masons build many types of walls, including those used as safety fences, dividing walls, retaining walls, etc. Walls may integrate pre-formed cement blocks and mortar or use an original mix of cement. These options remain the choice of the client.
Pools
Swimming pools, reflecting pools, and many other types of inland water containers require concrete to create. Some masons specialize in designing and building swimming pools, complete with waterfalls, slides, and garden beds integrated. These pool-building masons often also design custom slabs and installations for hot tubs and Jacuzzis.
If you want to specialize in this area of concrete work, complete your OTJ with an in-ground swimming pool installation firm. This specialty requires significant experience and expertise, which you can only build by doing the job. It's probably a good idea to work for an established pool designer and installer for a few years before opening your own company.
Recycling
Finally, some individuals who start a concrete business specialize in concrete recycling. Instead of depositing demolished concrete pieces in a landfill, many companies now reuse the old concrete to make aggregate. This saves space in landfills and creates a more ecological way to obtain gravel for roadways, instead of mining gravel from the ground.
Recycling concrete offers many more benefits, too. Let's consider how entering this specialty helps your community and the construction industry:
It uses local resources to create a local product.
Using local reclaimed concrete reduces materials transportation traffic.
Creates all-around cost savings, including eliminating landfill disposal fees.
Offers a renewable alternative to a non-renewable material.
Recycling concrete provides an ecological choice that safely reuses old, demolished concrete.
Note the word "safely." Recycled concrete goes into use either as soil substrate or gravel. It does not get reused in the construction of buildings as foundations or walls. The construction industry specifies uses for this recycled concrete because it has less impact resistance, crushing strength, and specific gravity than newly mixed concrete.
Common Issues
When you've finished your masonry training, earned your certification, and feel ready to start a concrete business, you may run into a few issues. Let's consider these common problems and how to handle them, so you can open the doors as decorative stamped concrete contractors or a swimming pool designer and installer.
You may find many companies already offering concrete mix, slab foundations, or swimming pool installation in your area. Don't despair. Open a cement firm with a different main specialty and offer your favorite as a secondary option. Figure out what no one else offers yet and open that company.
Perhaps you lack the funds to open your company. Concrete mixing requires some expensive equipment, including a mixer if you want to do large jobs. Consider taking out an SBA loan or a personal loan from a local bank.
Other options include a home equity line of credit (HELOC) that turns your home's equity into a line of credit that you can access to make purchases. Until you pay back the loan, the bank owns that portion of the equity in your home. It offers a very low-interest method of obtaining funding though.
Take on a partner who has the funds or part of them. Most companies hire more than one apprentice or OTJ mason at one time, so consider forming a company with one of the people who apprenticed when you did. Try to choose a person who has skills that you do not, such as someone good at outbound sales if your expertise lies in design.
Starting Your Concrete Business
You have many options when you want to start a concrete firm. Earn your certification as a mason first, then enjoy the fruits of opening your own business. It takes time, money, and effort, but the rewards include a significant income and personal fulfillment. There are numerous resources available to aid you in this journey. We hope this has given you a good idea of what you need to do to get the ball rolling on your new business. Good luck!