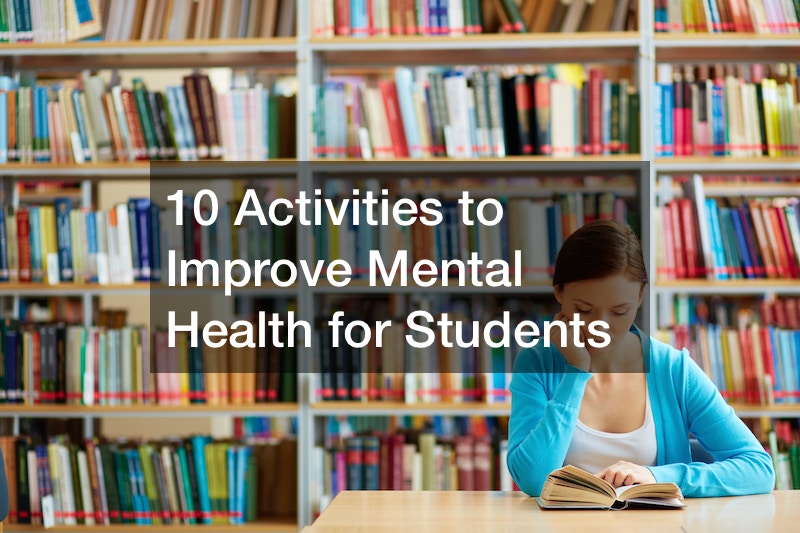 10 Activities to Improve Mental Health for Students

In the year 2020/21, a study by the American Psychology Association showed that 60% of students met the criteria of at least one or more mental health problems. Now more than ever, societies, policymakers, and other stakeholders recognize the need to promote mental health for students. If you're a stakeholder interested in seeing students thrive mentally, there are many activities to improve mental health for students.
The situation may seem stark, but prevention and treatment are doable. Although some factors, such as ethnicity and family history, predispose one to poor mental health, other factors, such as physical exercise, can act as facilitating factors. If you're looking for evidence-backed activities to improve mental health for students, you're in the right place.
In this article, you'll learn:
Factors that may influence mental health for students
Effects of poor mental health on students
Science-backed activities to improve mental health for students
Factors that Influence Mental Health for Students
Multiple factors could influence the mental health of students. According to a study by Fiona Campbell and others published in the BMC Public Health Journal, the following are some of the vulnerabilities that influence mental health among students:
Age: Older age groups may have better emotional regulation that develops over time
Ethnicity: Risk for anxiety and depression is more pronounced for non-whites
Sexual Orientation: LGBT students are at a higher risk of anxiety and depression, and suicidal behavior
Gender: Females have a higher risk of depression
Family History: Adverse Childhood Experiences (ACEs) have a strong influence on poor mental health in late adulthood
Mental Health History: Students with a family or personal history of mental illness are at higher risk of mental health problems
Autism: Autism is a risk factor for depression and social skills development
Consequences of Poor Mental Health for Students
You may wonder why a student with few responsibilities in life would get depressed or stressed. However, mental illness knows no age. While some illnesses, such as dementia, are prevalent in seniors, others are genetic and evident in children and young adults. For students, the consequences are contextual. Here are some of the impacts of poor mental health on students.
Impact on the Student
According to Inside Government, students with mental health challenges have lower engagement
The student may have a lower concentration in school and thus may find it hard to grasp concepts
Students with mental health challenges may experience sleep difficulties
The student may observe a drop in performance in their academics
The student may lose vision of life and stop thinking about their long-term goals
The student may lose energy and passion for new experiences
Impact on Others
Mental health problems can reduce productivity at work and relationships
Friends, teachers, school staff, and family can be devastated by student suicides
The student's family and loved ones can be concerned about the student
Impact on Larger Society
Negative effect on society when students dropout
Mental illness costs employers $51 billion each year
Some mental illnesses, such as drug dependency, can put others at risk, eg. driving under the influence
Untreated mental illnesses can lead to a student being violent
10 Activities to Improve Mental Health for Students
Societies for ages have developed mechanisms and strategies to promote good feelings and minimize painful and negative feelings. However, modern science clarifies which activities work and how they work to improve mental well-being. Here are ten activities to improve mental health for students.
1. Spend Some Time in Nature
One of the least intense and affordable activities to improve mental health for students is spending time in nature. One 2017 study by the University of Exeter found that people who live in neighborhoods with more trees, shrubs, and birds experienced less likelihood of depression and anxiety. You can try multiple ways to spend time in nature, for example, bird watching, hiking, picnicking, or simply walking.
According to Ontario Parks, exposure to nature reduces stress and tension, evidenced by reduced muscle tension, brain activity, and blood pressure. When you're exploring nature, your body produces more endorphins and dopamine while the production of the stress hormone cortisol reduces. You'll experience the same results regardless of the type of nature you interact with, so you can go to the beach or hike a mountain.
2. Play a Sport
Do you know you could enjoy and keep fit while mining mental health benefits by moving your body? Multiple studies have found a positive association between exercising and good mental health. Students may be more exposed to sports than other age groups. However, mobile devices may seem to offer more entertainment. Therefore, you may have to look for ways to play without getting bored.
For example, you can look for fun ways to play a sport, such as looking for the best golf courses in your local area and visiting with a few friends. Alternatively, you can jog in the morning, play basketball with friends, or cycle in the neighborhood. Just like taking a walk in nature helps boost the production of stress-relieving hormones such as dopamine and serotonin.
3. Get to Know Your Neighbors
Even though the world is now more interconnected than ever, people are becoming more and more isolated. While short moments of social isolation can improve relaxation and meditation, long periods can cause mental problems. According to Tulane University, social isolation has multiple negative effects, including:
Higher risk of coronary heart disease and stroke
A 40% increase in the risk of dementia
Sleep difficulties
Suicidal thoughts
However, you could reduce the impact of social isolation and improve your mental health by interacting with others. What better place to start than your student housing? You may initially feel socially awkward but soon enjoy interacting with your neighbor students. You can play games, volunteer together, or even take a walk.
4. Get New Clothes and Accessories
Get your shopping bag because shopping might help improve your mental well-being. While retail therapy will not cure depression, it could boost your mood when done in moderation. Therefore, you could encourage students to hit the mall or eyeglasses stores and get themselves something new because it will make them happier.
One study by the University of Michigan found that shopping for things you love can be 40 times more effective in helping you control your environment than not shopping. Shopping acts like a short-term distraction that helps provide your brain with a break. It helps you produce feel-good hormones such as dopamine, reducing stress and pain.
5. Get a Meaningful Tattoo
Another activity you could do to improve your mental health is getting a meaningful tattoo. While tattoos are often demonized as a sign of teenage rebellion, getting a tattoo may be liberating. If you're unsure about putting on a permanent marker, you can get a temporary tattoo and later graduate to a permanent but meaningful one. Always ensure you get a qualified tattoo artist when getting a tattoo.
According to a study published in the World Journal of Psychiatry, women, and men who got a tattoo immediately experienced reduced anxiety and were more satisfied with their appearance. The results were still observable after three weeks. The participants also reported higher self-esteem. Therefore, getting under the ink is a fun and creative way to spend an afternoon and could improve a student's well-being.
6. Take Care of Your Smile
Your smile has a significant impact on your self-esteem. According to a paper published in the Frontiers in Oral Health Journal, increased risk for dental decay and pain increases social isolation, pain, and lower self-esteem. However, the reverse is also true. Taking care of your smile has benefits for your mental health. For example, seeing a cosmetic dentist will give you more confidence to speak openly and eat in public without the anxiety that everyone is looking at you.
Some dental procedures can also improve your self-esteem and happiness. For example, having an orthodontist install Invisalign, a type of invisible dental brace, has been proven to improve mental well-being among students. 84% of participants in a study published in the American Journal of Orthodontics and Dentofacial Orthopedics agreed with the statement, 'I'm satisfied with how my appearance has improved.'
7. Take Yourself on a Dinner Date
For some introverted students, taking yourself to dinner at an Italian restaurant sounds fun. For others, taking yourself on a dinner date doesn't seem like something you would associate with an improved mental being. Yet taking yourself on a dinner date is one of the most beneficial activities to improve mental health for students. According to Healthy Place, taking yourself on a date helps with self-reflection and self-awareness.
Going on a dinner date alone helps you to be mentally and physically present. It is a helpful distraction that can give you a new perspective on something that has been stressing you. A solo dinner date can also be a form of self-care. According to the National Institute of Mental Health, self-care helps you manage stress, increases your energy, and helps you cope. So go ahead and take yourself on a dinner date to a local Mexican restaurant.
8. Adopt an Emotional Support Animal
Another activity you could do as a student to improve your mental well-being is adopting an emotional support animal, such as a puppy or kitten. Multiple studies have shown the mental benefits of owning a pet. For example, 85% of respondents in a Human Animal Bond Research Institute (HABRI) survey perceived that owning a pet helped reduce loneliness. Another study by Washington State University found that owning a dog helped reduce cortisol levels.
Owning a pet will give you more benefits than the cost of minding a pet. You may need to secure a qualified vet and pet-proof your home, but they will make good companions. Pets may even become conversation starters with other students in your neighborhood, which in itself is a boost to your mental health.
9. Get Enough Sleep
One of the most underrated activities to improve students' mental health is sleeping. According to Mind, an organization in the U.K., sleep and mental health are intricately related. Poor mental health will affect how you sleep, and sleep difficulties will impact your mental health. According to Columbia Psychiatry, good sleep helps you maintain cognitive skills, including memory.
Sleep time gives your brain a much-needed break from solving problems and helps rejuvenate your body for the next day's task. Therefore, it's essential to get sufficient sleep. One of the best ways to ensure good sleep is by shutting down mobile devices and being physically active during the day.
10. Do Gratitude Journaling
You could also start gratitude journaling to improve your mental well-being. A gratitude journal will help you look at things that make you sad but with a different perspective that helps you appreciate how far you've come. According to NPR, gratitude helps you sleep better, reduce stress, and have better interpersonal relationships. Therefore, buy that journal and jot down everything you're grateful for and possibly improve your mental health.
The importance of mental health cannot be overstated. The stakes are especially critical for young students who are building their lives and foundations. Without intervention, mental illness can cause irreparable damage to students. However, there are many activities to improve mental health for students.
You now know some of the activities you can engage in to improve the mental well-being of students. Multiple studies have been belabored to understand and share the protective factors that could improve students' mental well-being. With the above ten activities to improve mental health for students, you can help improve your well-being for a better quality of life.